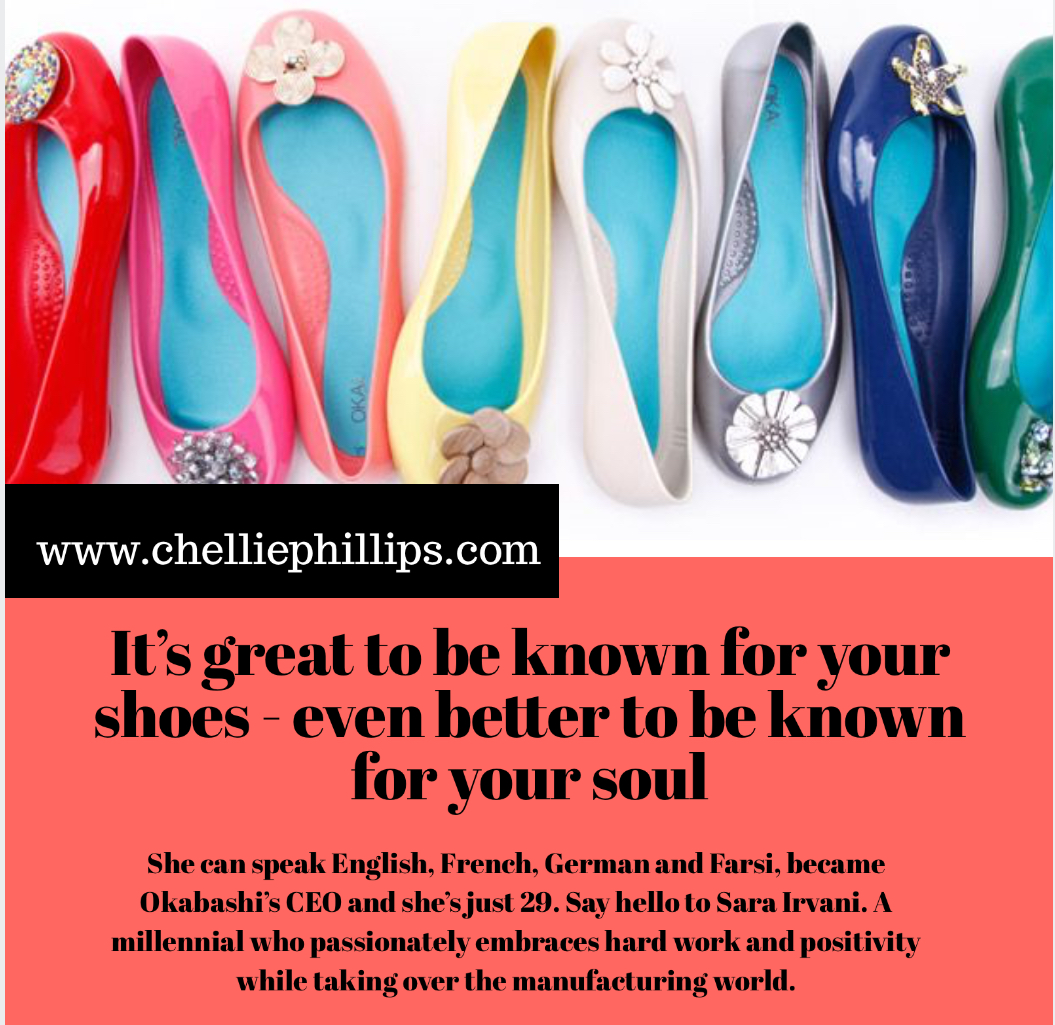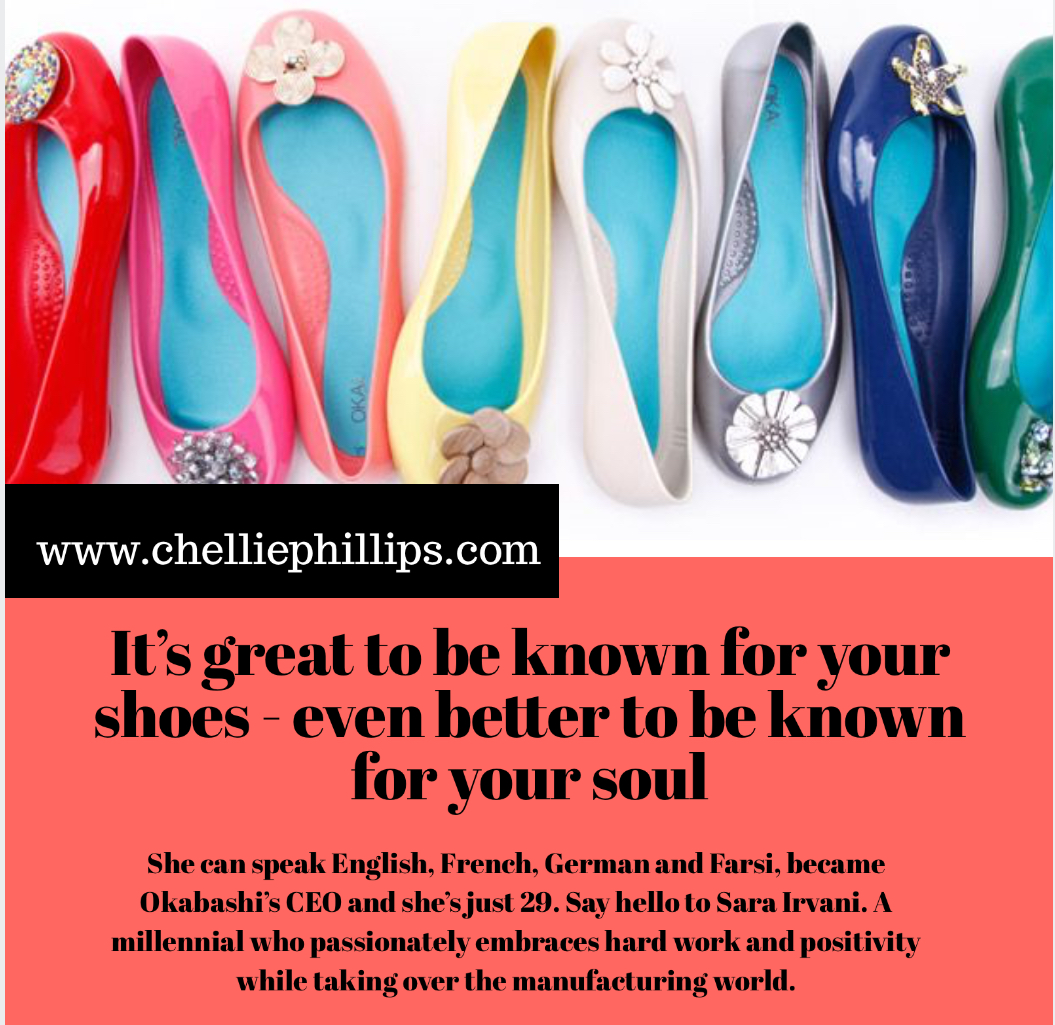 She can speak English, French, German and Farsi, became Okabashi's CEO and she's just 29. Say hello to @Sara Irvani. A millennial who passionately embraces hard work and positivity while taking over the manufacturing world. (P.S. she and her team were recently recognized by the White House for their desire to keep manufacturing jobs in the U.S. while running an environmentally friendly company.)
"I never really thought I'd take over the company," she said. "Since I was little I was fascinated with how things were made. Everything comes from something."
In a time where less than 1%  of shoes are made in America, Sara is walking in the footsteps of her grandfather and family. She is a third generation shoe maker located in Buford, GA. 
Her background includes a southern start and then a stint overseas. She studied philosophy and finance and says that language is important. She's been a venture capitalist and consultant. All of this before some people have even determined what they want to do with their life. 
Leading a 200 person organization takes vision. Her vision isn't just about creating a cute, comfortable, sustainable product that doesn't end up in a landfill – it's much more. 


"I've had the opportunity to see how many companies operate and the cultures of those organizations," she said. " I learned what I didn't want our company to be."
So how did she go about creating a dream organization?  By focusing on the whole team. Sara's company is made up of 70 percent women. 
"We built in flexibility," she said. "Our folks might need to leave and pick up their kid from school. But you know what, even when they are doing that, they are still thinking about work. Work is a pervasive part of our lives. We also learned that you can't just create one off policies. Manufacturing positions are different from strategic one. You have to really look into each position and see how they impact the organization and make a plan that works. This flexibility really empowers people and leads to an extremely loyal management team and workforce."
Her strength has been in working with her leadership team and developing a vision together.
" We have a spirit of teamwork," Sara said. "It's a change for whole company. We came up with or 20 top initiatives. Had I come in and said 'it's my idea let's do it' I don't think everyone would have gotten behind it. We've developed a spirit of transparency. Everyone chips in."
Sara is passionate about women in leadership. 
"I've been in and seen environments where I was only woman in the room," she said. "I've been asked why I was there or if I was new assistant to Mr. XYZ. You've got to keep your cool. Now I just ask why they are there. Exploding in that moment isn't the way to go. It's very powerful to see it more balanced. Having women on the  leadership team brings different thoughts to the table. Women think that nothing can get in our way. It's different from a macho leader who thinks he can run through wall and knock his way through something. It's much more like parkour where you jump over the wall and obstacles to reach the solution in a faster and less destructive way."
Not only is she a champion of developing women as leaders, she's also a champion for the millennial generation. 
"I think we are definitely curiousity about what the future holds," Sara said. "Our generation is hungry to make a change. Our language is very different that what the seasoned CFO uses. That creates challenges. I've learned the energy you bring has to be met with results. If you get results people are more likely to tolerate your new ideas."
From the outside, Sara may appear a force to reckon with, yet when you look closer, you see she deals with many of the same concerns or fears as the rest of us.
"What are my greatest insecurities? It's tough. I have an ongoing conversation with my husband about how much is ability and and how much is aspiration. Am I reaching high enough or challenging myself and my team? I commute from NY to Atlanta and I'm away from husband five days a week. I worry 'am I good wife'. We all struggle with self perception."
While Sara and her team at Oka-B are already looking forward to next year's biggest colors for spring (hint: she said a lighter shade of blue will be the standout color), she's also looking for an even brighter future for women and her company. 
'"The movement we see now with more women coming to the trough,  it's going to be questioned less," she said. "Everyone has their way of living their values and making their place. Just give them their fair voice. It's about keeping your heads in the cloud while keeping your feet on the ground. It's about community. It's about collaboration. You know what they say, 'give it to a busy person if you want it done'."