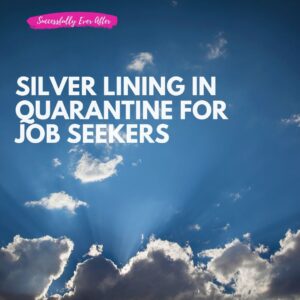 The COVID-19 outbreak has caused major changes in the work life of millions. From layoffs to telecommuting, everyone is facing challenges. The silver lining is you can use this time to prepare for a job search or to advance your career once things return to normal.
REVAMP Your Resume and Online Profiles
No matter when you start a job search, you need updated marketing materials and a online career brand that makes you stand out while showcasing your unique skills and abilities. Make sure you choose the right resume format and build it, so today's software doesn't kick you out of the system before a real person gets to see it. Make sure your branding statement reflects how you can benefit the company of a potential employer and doesn't just rehash your last job description. Once you've got the basics down, make sure your LinkedIn profile has all your latest information. Don't forget to include keywords specific to the job you want when building out both.
Watch this video for some great ways to get started revamping your resume.
GROW Your Network
Even in this time of self-isolation, it's important to continue growing and working your network. Stay in touch with co-workers, college mates and others who can let you know if potential jobs open in areas you are interested. You can also use this time and your networks to optimize your online profiles with endorsements and recommendations. There's no bad time to invest in your connections. You can also utilize the network of recruiters on LinkedIn and take this time to introduce yourself and make them familiar with your skillset. Once the job market opens, you'll be top of mind.
ENHANCE Your Skills
Online learning is a great way to enhance and improve your skills. Since we're all spending more time streaming content why not do something that will help you in the long run. Many universities and online learning sources are offering free courses now. Sites like Coursera, edX and Class Central are filled with ivy league offerings. While you may not earn actual university credit from them, you can bet they will help as you pivot in your career. Other sites like Teachable and Udemy have courses to choose from and offer you opportunities to earn certifications. For instance, if you're looking at a career in digital marketing, Google offers certifications in Google Ads and Analytics, Facebook offers course in how to advertise, Hootsuite offers certification in social media marketing. Any of these would be an enhancement to your resume and show a potential employer you've been using this time to grow your skills and increase your value.
Putting this time to good use will take your mind off the uncertainty of today and help you maintain your sanity while giving your professional reputation a boost in the process. COVID-19 won't keep the job market locked down forever, so use this time to make sure your ready to go when things return to normal.