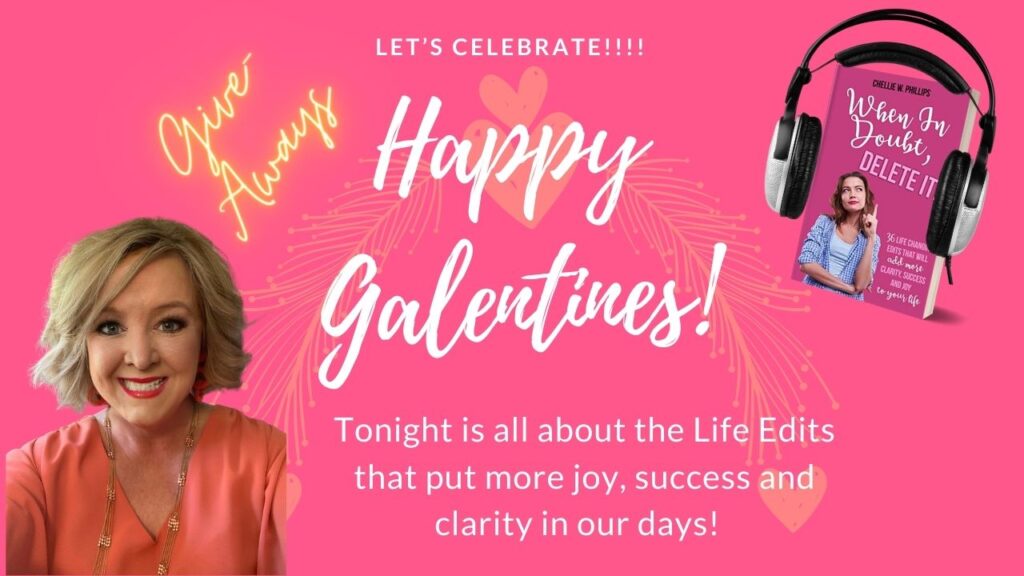 It's time to add a little celebration and gratitude into life. I'd love for you to join me for a Virtual Galentine's Book Launch!
Grab your best gal friends (guys welcome too!) and let's celebrate finding ways to add more joy and happiness into our days! You're in for a night of fun, laughter and celebration .
I wrote When In Doubt, Delete It!  because I was inspired by the edit marks I used to get back on stories I wrote at the newspaper. That inspiration turned into 36 Life Edits designed to help you add more joy, clarity and success into your life. And I'm sure excited to share it will be available on AUDIBLE 2/11/21.
Life Edits are presented in a quick read format with Deeper Edits at the end of each chapter that allows you to stop and focus on how each section fits into your daily life.
When you add more joy to your life, you laugh more and feel better. It improves your health, inspires you connect with others, and it begins to spread. When In Doubt, Delete It! combines my 20+ years of experience in mentoring, corporate teambuilding and public relations with metaphorical proofreader marks on life. I hope to show readers how to change their thoughts by using the concepts of delete, insert, move, begin and stet.
Life Edits encourage readers to:
delete things holding you back.
insert qualities and ideas that help you grow.
remain true to yourself.
begin adding new experiences to stay out of a rut.
move toward the door of opportunity
I've been there. I've woken up knowing in my heart, there had to be more. I was determined not to waste another day living unfulfilled, undervalued and wanting more. The 36 Life Edits in When In Doubt, Delete It! are real life. I want women to know they can take their personal and professional life to the next level and in turn they can influence and help others along the way.
If you join us during the celebration, you'll get the behind the scenes info on making an audio book and meet my wonderful narrator, Joy. You'll also get to meet some of the people mentioned in the book who have made such a huge impact on my life.
These simple techniques are resonating with women from all walks of life.
Look what people have to say…
"Life Edits are a fun, unique, and refreshing way to receive great life advice," Nikki Stephens, Covington County Assistant District Attorney, said. "Chellie's personal anecdotes are so relatable and inspire you to evaluate the important things in life, and then to do what it takes to relentlessly pursue those things as you work toward becoming the best version of yourself. If you're feeling unsatisfied personally or professionally, this is a must-read to rediscover and reignite your passion, so you can live a successful and fulfilled life."
"When In Doubt, Delete It, shows women how to love, accept and honor the authentic human beings they are through the process of Life Edits," Angela Dailey, owner and publisher of West Georgia Woman magazine said. "Chellie helps women from all walks of life take charge of their situations and empowers them to unlock the potential they have within to become more successful in their personal lives and in business."
Join me as we launch the Audible version of When In Doubt, Delete It! on Thursday, February 11 at 7:30 PM. Simply click and your invite to the virtual party is on the way.