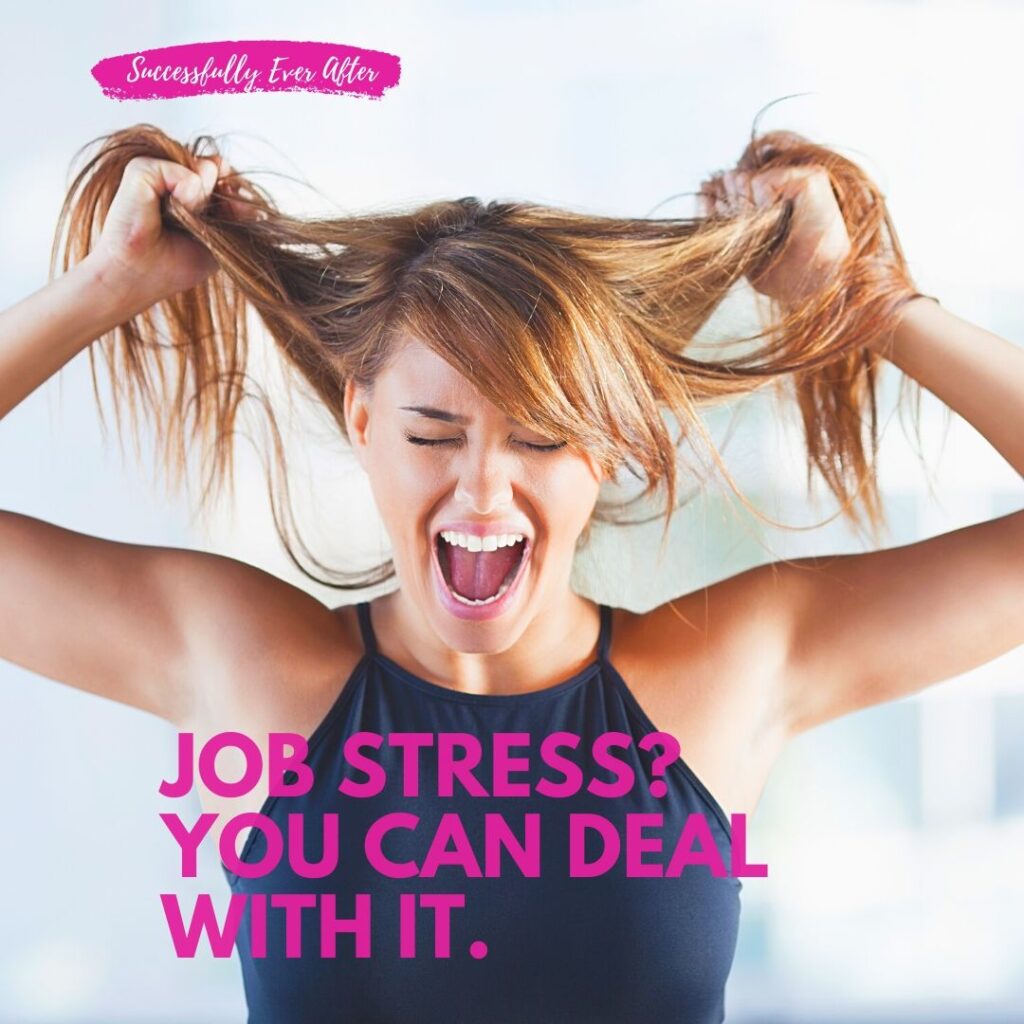 Unless you're independently wealthy, you probably have a job. Hopefully, you like that job most of the time, but it can also be stressful and uncomfortable on occasion.
Stress is a natural part of anyone's work environment, but if you learn to handle it in positive ways, you'll enjoy greater job satisfaction. Learning to deal with job stress can take time and effort, but there's no better time than the present to get started on your journey to successfully handling stress and enjoying your job, day after day. It makes a better work environment for you and everyone you work with.
What Causes Your Stress?
There are mental and emotional manifestations of stress, but there are physical ones as well, and recognizing them can help make it easier to understand where most of your stress is coming from. Knowing where you experience most of your stress won't remove it, but gaining an understanding is the start of finding ways to lower your stress levels.
Some things that make you stressed on the job can include:
Performance evaluations
Deadline
Making mistakes
Work overload
Training
Office conflict
Even if there are a lot of things going on with your job that cause you stress, you can let that stress go and feel good again.
Letting Go of Job Stress at Work
Some people unleash their stress by yelling, acting out, and verbally attacking others around them. This can happen all too easily in an office environment where people are packed close together, but you can avoid these kinds of things and release your stress properly and gently.
Try these strategies to release your stress at work:
Remember to breathe. Breathing is vital for survival, but it's also great for calming you down when you breathe effectively. Inhale slowly through your nose, and feel the air fill up your abdomen, not your lungs. Then exhale slowly through your mouth. If you do that a few times, you'll feel calmer and less stressed. It's great for anxiety, too.
Squeeze a stress ball. They're small, lightweight, and designed to be squeezed when you feel stressed out. Even if you feel a little silly at first, they can be very beneficial.
Letting Go of Job Stress Away From the Job
When you get home from a challenging job, leave your stress behind. Avoid carrying it around with you as you go about the rest of your day. What happens at the office should really stay there, but that may be easier said than done.
Some things to consider when you let go of stress at home include prayer, meditation, yoga, exercises, talking things over with friends or family, playing with a pet, or anything else that makes you feel joyful and peaceful. You can create the kind of atmosphere you want in your own home, even if it's not possible to do that at your job.
When you let go of job stress daily as it happens, you avoid going around frustrated and angry. It helps your relationships with other people, your own health, and the way you feel about yourself.
Some people turn to medications to deal with stress, but you can handle your job stress effectively on your own. Practice breathing, practice any activity that makes you happy, and practice appreciating what you have!
When Enough is Enough
Let's be real for a moment. Not every day is going to be a great day. However, going to work every day shouldn't feel like walking into a torture chamber. If you have more bad days than good ones, you might need to consider if it's time to find a new career or place of employment.
Several years ago, I made the decision to leave a 20-year career after a management change occurred. I had tons of industry awards, speaking credits and industry recognition but the person I answered to consistently made me doubt my worth and ability. I knew they didn't respect me or what I did.
Looking back, staying in that position took its toll in several areas of my life. I brought that stress home with me. My husband never knew which me was going to walk in the door at night. As a result, my relationship suffered. I'm sure my friends got tired of hearing me complain about the latest installment of "As the World Turns at Work." No wonder lunch dates started to get further and further apart. A toxic work environment not only sucks the life out of you, it kills your self-confidence and self-worth. The stress can lead to weight gain, sleeplessness, illness, anxiety and depression. That's no way to live.
Ready for A Change
When you decide your current situation is taking more of you than you're willing to continue to give, make sure you've got a plan in place that sets you up for a successful career change.  I've spent years helping people find their Successfully Ever After.  Before you walk in and hand your boss your resignation letter, make sure your personal career brand is ready to go.
Today's job search happens on a digital field. Not only will you be searching for a new career online, potential employers will be checking you out there as well. Every time you share, like or comment on something you are revealing something about yourself. Does your profile stand up to the scrutiny or are there things lurking in cyberspace that will knock you out of the running? Completing a personal brand audit is vital. You need someone to show you how to build a professional presence on Linked In and other platforms designed to highlight why you are the perfect candidate and help you eliminate the things keeping the offers from rolling in.
Know and avoid roadblocks
Software is set to be a roadblock for online applications. Over half of the applications submitted online are never seen by real human eyes. If you use the wrong font or template, you could be the most qualified candidate and a hiring manager or recruiter will never even know you exist. If you do make it to someone's desk, you have less than 7 seconds to get their attention. Will your resume and cover letter get you noticed?
It's not as simply as filling out an application anymore, you've got to get noticed to get hired.
I spent hours researching the process, learning the hard way and creating a program that has helped hundred find their Successfully Ever After. I want you to have an easier time than I did, so I created a program that included everything in one place.
Successfully Ever After is your personal roadmap for a successful job search. In this 30-day online course, you'll receive tools including:
A personal brand audit to determine your current digital currency (valued at $350)
Social media clean-up and recommendations designed with your career in mind through personal coaching call (valued at $250)
A strong LinkedIn Profile built to get the attention of recruiters and hiring managers (valued at $250)
A Power Resume that is age proof and targeted for your dream job (valued at $200)
Develop a list of key words for an attention getting cover letter (value $200)
Reframe your mental game and set priorities for your successful job search (value $350)
Identify potential contacts, both personal and in online communities (value-priceless since over 60% of employers believe referrals bring in candidates who are better fits than blind resume submissions)
If you bought each of these services individually, you'd pay well over $1,600.
In just 30 days, you can hold the keys to get unstuck and leave your dead-end job behind. You can build a personal, professional brand designed to find your Successfully Ever After. Isn't your future success worth investing in yourself? If you're ready to say yes to success, I have room for 10 people ready create their personal brand and find their dream job with Successfully Ever After. I'm offering you this opportunity for only $397.
Most people start working at 18 and plan to retire around age 65. Making a career change at 40 means you still have over half of your working life ahead of you. Successfully Ever After sets you up to find your best career yet.
It's time you get noticed and get hired. You don't need a fairy godmother or a magic wand to navigate the new job search market, you only need Successfully Ever After.