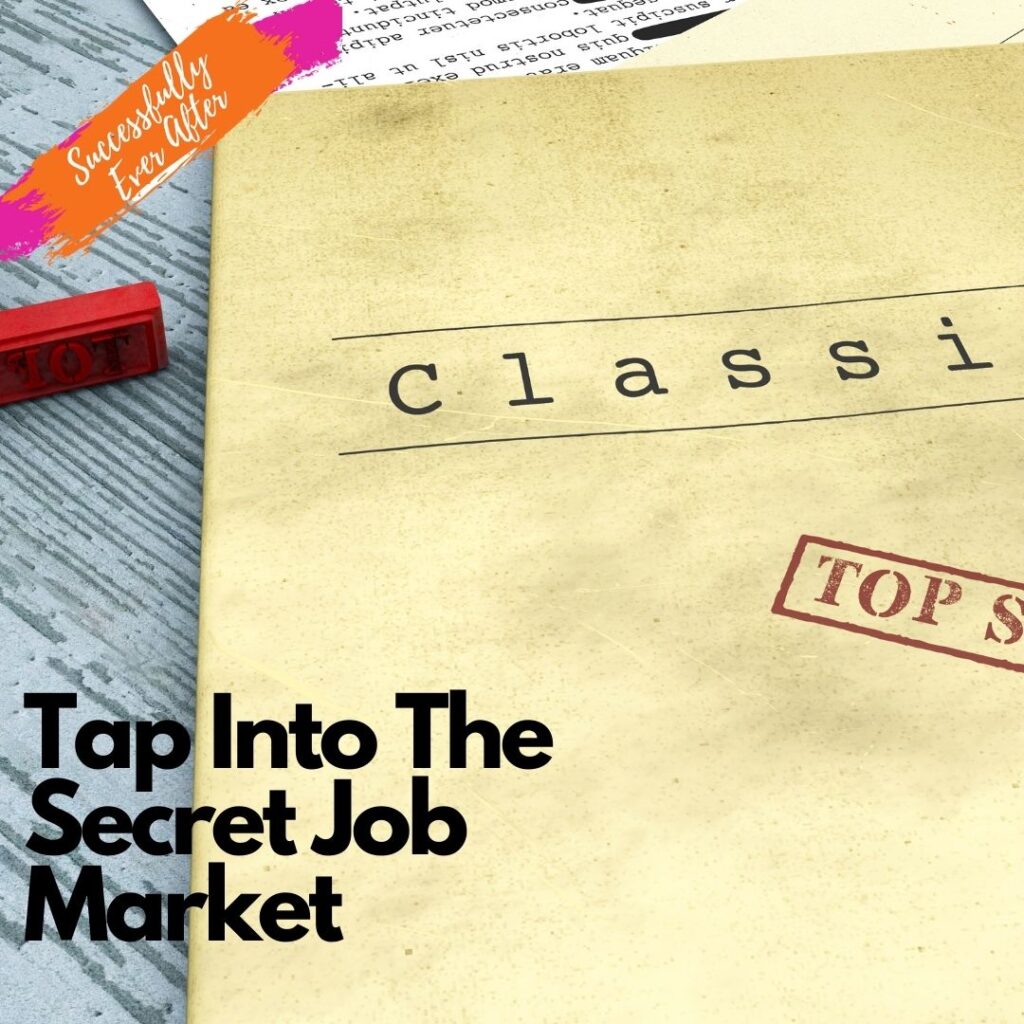 When searching for a job, most of us will start by applying to all the positions posted online. After all, if you send out enough resumes, you'll secure a job sooner or later. Right?
Not necessarily!
Tap into the secret job market
Unfortunately, the jobs that are easy to find often receive hundreds or even thousands of applicants. The odds of beating out all of them for the position may be against you. In fact, approximately 50% of all available positions are filled before even making it to the public posting process.
Someone gets the job before the rest of the world knows about it.
Sometimes these jobs go to someone already employed at the company or to a "friend of a friend." But if you know how to work the system, you can tap into this secret job market and reap the benefits!
Use these strategies and become a pro at finding these off the record jobs:
Networking is the key. Why? A lot of jobs aren't posted anywhere, and only a few individuals even know they exist. It might be a manager who knows he's expanding his department in a few months or the sales representative whose boss told her they're hiring more reps next quarter. Meet as many people as possible within your industry, job category, or even a related career. Share your career goals with these individuals so they keep you in mind when an opportunity arises. The larger your network, the more inside information and opportunities you may have.
Make contact with someone on the inside. You're looking for the person in charge of hiring or someone who can make effectual recommendations. For example, if you're a teacher, that might be the school board or principal. It might take a little digging to find the name of the contact person you're looking for. Check out the company website or call the establishment and ask. Once you find the right person, reach out and let them know you're looking for a position. Solicit advice rather than directly asking for a job because that could put them on the defensive. You might end up with a great referral or on the top of the list when the next position becomes available.
Leverage LinkedIn. This is a great website for tracking down other professionals. Look up your high school friends and college roommates. One of your contacts might be able to help you out. For example, your high school pal might be a CEO and she could pull some strings. Getting a reference from someone that knows you well can make all the difference.
Contact everyone you know. Take the time to drop a line to everyone you know just to say hello. After the pleasantries are out of the way, let them know you're looking for a job. The more people you talk to, the better your odds of finding something.
Contact people you don't know. After you've contacted those you know, the only people left are the random ones whose paths you cross each day. The person in front of you in line at the grocery store might know of the perfect job. Keep your eyes and ears open at all times. You might hear a conversation at the bank about someone hiring for a position you'd be perfect for. Let everyone you encounter know that you're looking for a job.
Ready to land that awesome job? There are many more jobs than just what's listed on Monster.com. Take the time to reach out to others and make as many job-related contacts as you can. Leave no stone unturned!
Speaking of Monster – here's a quick video on tips you can use job searching…
Many people have stated that looking for a job is hard work and perhaps the toughest job you'll ever have. But it's work that pays off. Finding a well-paying job that you love is a very worthwhile pursuit because it can change your life for the better.
If you want more secrets to professional success, you can:
Subscribe to my YouTube channel and watch quick tips to help your job search or make yourself promotable.
Join my private Successfully Ever After Facebook Group for trainings and information designed for success-seekers.
Work with me privately. Together, we'll craft a personal career brand that will grow with you throughout your career and set you up for a lifetime of career success. https://www.chelliephillips.com