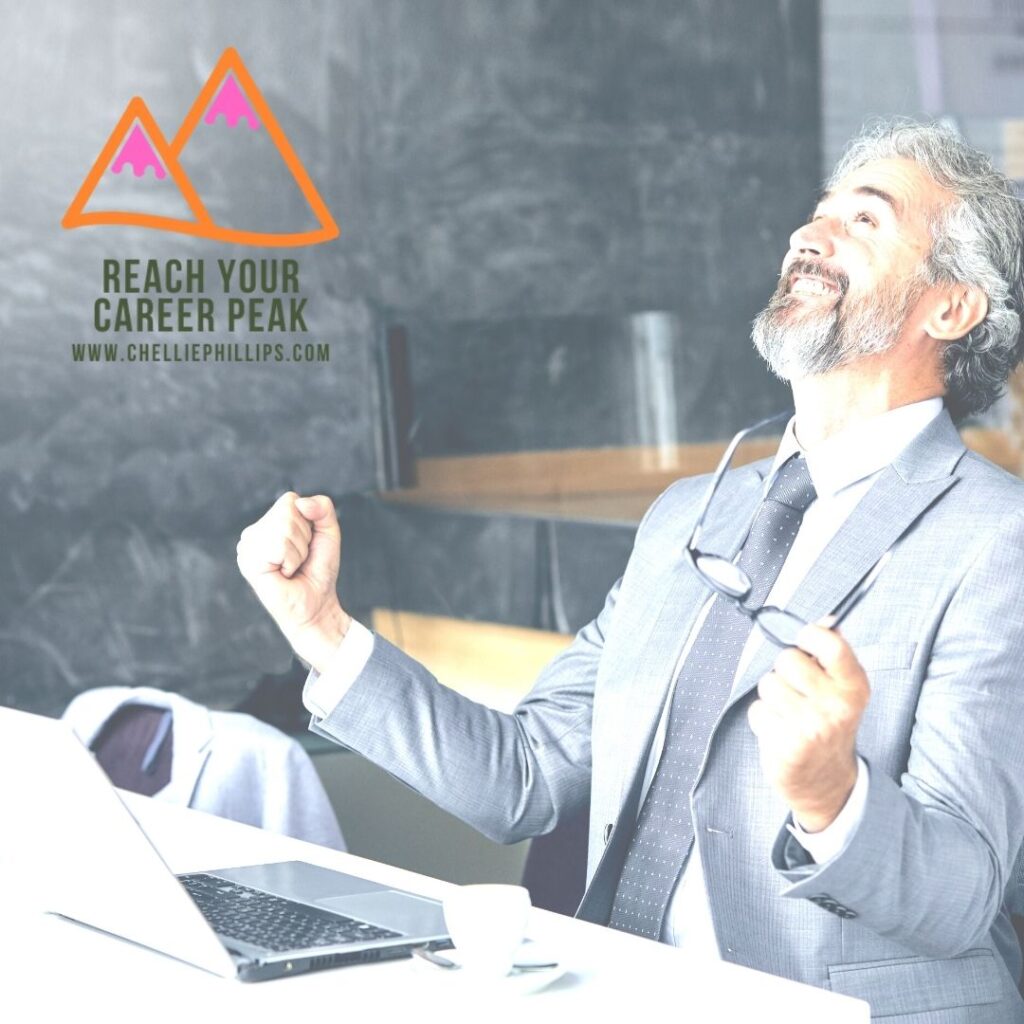 Note: In honor of International Coaching Week (May 17–23, 2021.), which is all about showcasing the value of working with a professional coach and how that relationship helps you see real results and progress, I'm sharing a special training with you. It's called Reach Your Career Peak. For 10 days, I'll be sharing tips and tactics designed to help you reach the top of your career field. I'm also giving away a FREE e-book and workbook if you want to work along with me. If you have any questions, feel free to drop them in the comments here or on social media where I'm posting a series of video trainings as well. 
We're nearing the end of the "Reach Your Career Peak" series. It's Day 9. Today is all about identifying what might be holding you back currently. You might be surprised, it could have more to do with your actions than your work performance.
Do you feel like your career has stalled or your efforts are not appreciated? If so, it might be worth checking in to see how much is caused by self-sabotage. It might surprise you to find out that there are some relatively small but effective things you can change right now to kickstart your career again.
Here are some of the most common things people do to undermine themselves in the office:
You're always late
If you're chronically late for work or meetings, it sends a strong signal that you are not committed to the job. It also implies that other people's time isn't important to you. But that's not all because you also let your colleagues down if you don't show up to meetings on time. And, when you do get there, you're stressed, hot and flustered. Being habitually late is unprofessional.
You don't dress the part
Looking like you belong is an unspoken but important part of teamwork. If you dress too casually for your office environment, or worse if you look disheveled, scruffy or even unwashed, you're not just signaling that you don't belong, you're saying you don't want to belong.
Up the other end of the scale is overdressing for the office. There's no need to wear your best clothes to work or to look like you're en route to a photo shoot or a gala. Take your cues from your colleagues and managers, and dress to suit the office. The old rule is dress from the level you want to obtain.
You're negative and unhelpful
It's easy to sit there and criticize or point out the bad grammar in your colleagues' work. You can be a critical friend without being relentlessly negative, especially if the point of your critique is to be helpful. Work with your colleagues to make an idea or project work. Don't just point to problems, help to find solutions
Negative behavior can also spill into your interactions with your colleagues. Make a conscious effort to be nice. Greet your colleagues when you arrive in the morning and when you leave at night. Wash up the coffee cups in the kitchen and help with the regular office fridge clear-outs.
Be thoughtful about how your treat your office space, especially if it's open plan. Don't leave sweaty gym gear lying around and try to keep your desk clutter to a minimum.
You overshare and gossip.
Possibly the most important rule of working in an office is never, ever gossip or talk about colleagues behind their backs. You can be friendly without sharing everything in your life or speculating about other people.
Your Reach the Peak action for today
Continue the self-evaluation from yesterday. Take a hard look at how you act or present yourself at the office. Is there room for improvement? 
Self-sabotage is a real thing. Maybe you feel like you don't deserve to have great opportunities in life. Maybe you feel everyone else is better than you.
Are limiting beliefs holding you back?
In the Career Accelerator you'll learn:
8 Ways a Positive Attitude Enhances Success.
Find the answer to why you are uncomfortable with success and learn how to reframe your mental talk by breaking the negative habit one day at a time.
You will identify 6 specific excuses that limit your success and discover which ones impact you the most.
Apply the 4 Steps to Freedom: Eliminate Habits That Smother Your Dreams
Let's face it, self-doubt can affect every area of life. I want to see you take a winning approach to achievement and success and best of all, you can start for just one dollar.  You can access the entire site – no limits – and start moving forward instead of letting old beliefs continue to hold you back. There's no long-term commitment and you can cancel anytime if it's not for you.  
If you haven't downloaded your FREE copy of my E-book, The Peak: Reaching the Top of Your Field, along with the companion workbook, today's the last day. Just fill out the form below and it'll arrive in your in box. 
Want more?
Join my private Successfully Ever After Facebook Group for trainings and information designed for success-seekers.
Check out my audio books: Get Noticed, Get Hired or When In Doubt, Delete It!
Subscribe to my YouTube channel and watch quick tips to help your job search or make yourself promotable.