Keep your career on track by knowing how to work with a recruiter. These professionals are an additional resource you can use to succeed in a tight job market or to get sound advice anytime.
General Guidelines For Working With Recruiters
Understand how recruiters operate. Recruiters are hired by companies to fill positions. They often work with their clients in some depth so they may have unique insights on how good a match a candidate is for any opening.
Focus on your best leads. Studies show that about 10 percent of job hunters find a new position through search firms. Use them as a supplement to other strategies like networking, social media and answering ads.
Gather personal references. Ask people in your field for recommendations on the top headhunters. Learn from their experiences.
Make cold calls. In some cases, you may need to find recruiters on your own. Check professional directories or search online. Call the appropriate staff person to present your qualifications and see if you can arrange a time to meet.
Flaunt yourself on social media. Most recruiters are active on LinkedIn, Twitter and other platforms. Make yourself visible, join relevant groups and offer help to others. Social media is just one element of building a personal brand designed for career success. Learn more tactics here.
Treat recruiters like any potential employer. Regard contacts with search firms as seriously as you would any job interview. Dress professionally, do your research and rehearse your answers.
Tell the whole truth. Be candid with recruiters about your work history, salary expectations and career goals. They can help you more if you level with them.
Offer explanations for any areas of concern. Everyone has some imperfections. Be proactive in offering a good reason for gaps in your employment history or other topics that a potential employer might question.
Listen to the recruiter's advice. Recruiters will typically provide extensive guidance throughout the interview process. Take advantage of their expertise to prepare for interviews, debrief and follow up.
Make your own career decisions. As helpful as search firms can be, you're still in charge of your own future. You need to feel good about accepting any new position.
Guidelines For Working With Recruiters In Specific Circumstances
Start adding recruiters to your network. Naturally, companies are unlikely to pay recruiters for entry level positions if they're already flooded with more resumes than they can read. If you're new to the job market, you may want to attend events or socialize online to build future contacts.
Keep in touch while you're still employed. Like most things in life, it pays to be prepared. Start talking with a search firm while you're still happily employed. Recruiters will welcome the chance to keep you in store for future opportunities and employers often prefer candidates who are currently working.
Coordinate approaches if you're using multiple recruiters. It's often preferable to work with more than one recruiter at a time. Let each search firm know what else is going on and stay on top of the process yourself. Employers may be put off if they receive your resume from more than one source.
Consider exclusive arrangements. Congratulations if you're so prominent in your field that recruiters are calling you. In such cases, you might get asked to be represented exclusively. Being such a high priority could work to your advantage.

Recruiters work for the employers who pay them, but they can still provide you with valuable benefits if you understand their role and needs. Get to know the top recruiters in your field and tap into opportunities you might otherwise miss.
If you want more secrets to building a successful career brand, you can:
Join Successfully Ever After an online course designed to help you create a personal brand designed with career success in mind within 30 days.
Subscribe to my YouTube channel and watch quick tips to help your job search or make yourself promotable.
Join my private Successfully Ever After Facebook Group for trainings and information designed for success-seekers.
Check out my audio books: Get Noticed, Get Hired or When In Doubt, Delete It!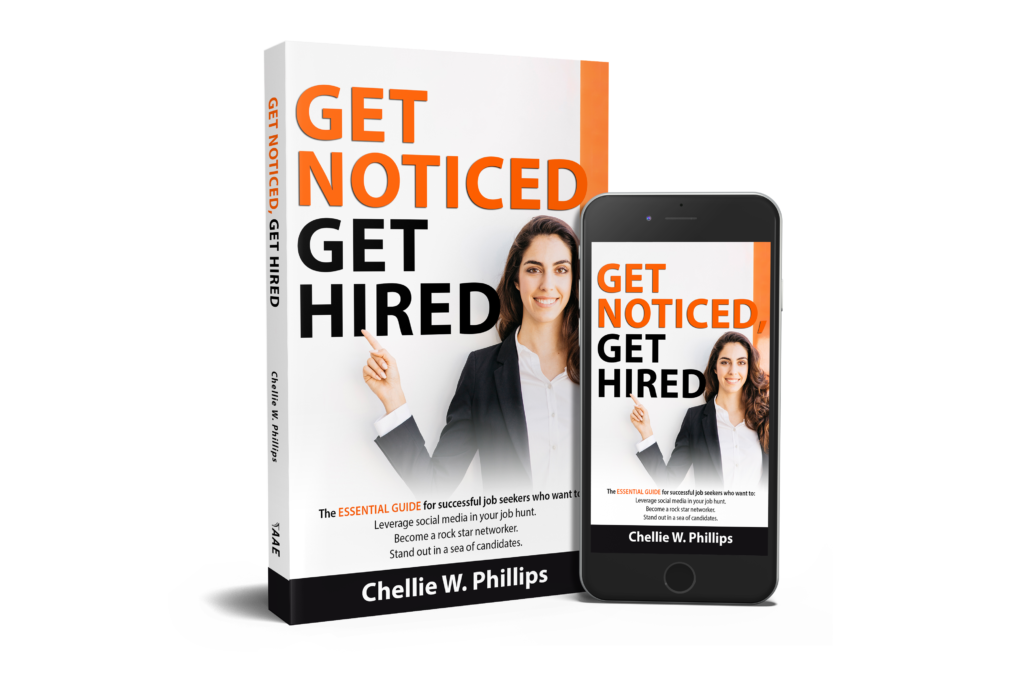 Even though most people have a job, or will want a job at some point, I've yet to meet anyone who is a professional job searcher. Why? Because embarking on a job search isn't something that's done every day, and the methods and rules for a successful job search are constantly changing. Yet how you navigate the process can have a big impact on one of the most important decisions you'll make in your lifetime – sometimes multiple times – so it's critically important you get it right. Get Noticed, Get Hired should be one of the first tools you add to your job search toolkit. Chellie is a wise and experienced guide that can help you to understand how to start the process, set yourself up for success and get noticed for the opportunities that are an ideal match for your skills and experience. Don't waste your time – and potentially damage your career – by going it alone. Use the resources shared in this book and learn from Chelllie's advice. You'll not only be able to connect with the job of your dreams, but you'll also have the tools to manage your personal brand and grow your career in the future.
JENNIFER MCCLURE, CEO of Unbridled Talent, LLC and Chief Excitement Officer of DISRUPTHR, LLC